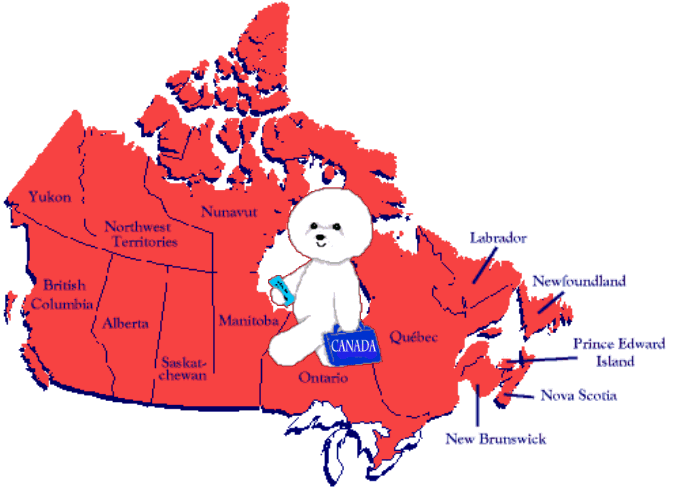 Music: Sun Moon and Stars (Jim Brickman)
Midi sequence from Sunncity.com

FRIENDS ACROSS CANADA


Please take the time to visit the web pages of some of our Bichon Friends Across Canada
(If you have a website and would like to join our group of friends, we would like
to hear from you. We do however reserve the right to accept or reject submissions.)
Disclaimer: Bichons Across Canada is not responsible for content of the links below or dealings you may have with the parties thereto.



Snowmann Bichons
Maple Ridge, B.C.





MusicBox Bichons & Lowchens
Minden, ON, and Oxford, GA

Karen Moore
Mississauga, ON

Adeuxpaw Lowchen & Bichon Frise
Walkerton, ON


Normandy Bichons
Udora, ON




Belerin Bichons (Naturally!)
Elmwood, ON




Daryl Novak
Niagara Falls, ON




John White,
Toronto, ON

Donna Furneaux
Ajax, ON

Snopuff Bichons
Sussex, N.B.




Vivian Yorke
Kingston, ON




Miss Bliss Bichons
New Westminster, B.C.

Heaven's Bichons
Richmond, B.C.

Informational Website
Canada




Starlit Bichon Frise
Whitby, ON.



If you haven't already found the answer to the picture halves on other pages of this web site
below are (l to r) Sascha, China, Amy and Mandy
Sascha and China, of course, are Karen Moore's agility bichons
and Amy and Mandy are Daryl Novak's obedience girls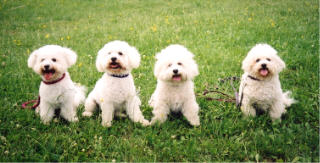 Just one example of the power of the Bichon Frise.
They have a magnetism that draws people together!